over the past thirty years, garry hill's original paintings, prints and designs have appeared within the most respected areas of the sport, from board rooms and suites to race car paint designs on the track.
as an artist working only with racing subjects, garry has created paintings for the motorsports community at the corporate level as well as for private collectors. many of these works have been published as limited edition fine art prints and have been available in over 70 galleries internationally. his art has been featured on television, radio and in major racing publications.
sprint communications, international speedway corporation, general motors and other corporate entities have used garry hill's work extensively. he has produced paintings for race program cover art at dover downs international speedway, watkins glen international, richmond international raceway, martinsville speedway, bristol motor speedway and atlanta motor speedway. his work is displayed in the stock car racing museum at darlington raceway, the daytona international speedway and lowe's motor speedway's "the speedway club" and the international motorsports hall of fame.
garry hill is creating and publishing two special limited edition fine art print series. the "great moments in racing" series documents the history of nascar racing, and "the all-star" series focuses on the annual sprint all-star race. several of these editions are available personally autographed by such racing greats as richard petty, dale earnhardt, bill elliott, jeff gordon, dale jarrett, junior johnson, bobby and davey allison, and many more. hill was the first artist to introduce signed and numbered fine art prints to nascar racing and the first to publish driver signed print editions.
hill and his wife pam reside at lake norman in mooresville, north carolina.
---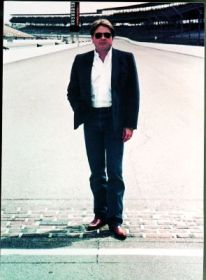 hill at the indianapolis motor speedway researching the "brickyard thunder" print project for chevrolet.